The Portfolio and Project Management Office (PPMO) is our central hub for resources and information on projects happening in Information Technology Services (ITS) and plays a large role in ITS providing services to the Mason community. Particularly, the PPMO aligns technology investments at the university with strategic business needs to maximize their value and then help manage it along the way.
This year, one of ITS's goals is to rebuild the PPMO as a main gateway for all technology work at Mason. In doing so, the office is reshaping service offerings to be more customer focused and collaborative. The pieces that are currently under construction are:
New PM framework templates to provide consistency and frame of use
Creation of new services so people can easily make requests with the PPMO
Reshaping the project intake process to provide customers a member of the PM team to help document their requests; from there, a project manager will be in communication for the remainder of the implementation process
Expanding the team for the many projects occurring in ITS and at Mason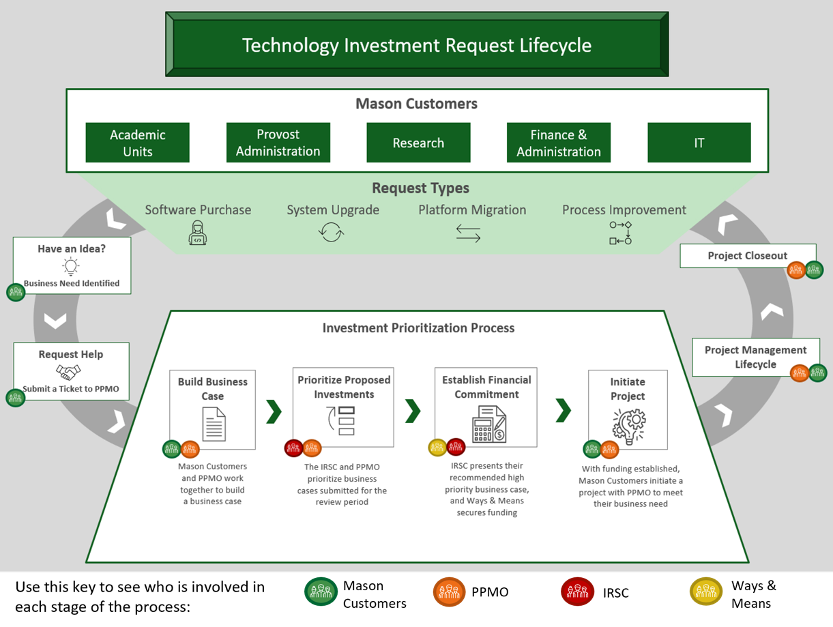 During these changes, one of the most exciting creations has been the new Projects Dashboard, which contains visual representations and analyses of current projects and requests in Mason's Project Inventory.
Note: The Dashboard is only available to Mason faculty and staff and requires log in to your Microsoft Account using your Net ID and Patriot Pass Password.
As the dashboard shows, there are many projects that ITS is working on to help improve business at Mason. Here are some that we're most excited about:
Chart of Accounts Redesign: This effort is fundamentally changing how we track things at Mason to better meet the financial management needs for the university and offer flexibility for the future. To learn more, visit the COA website
Telecommunications System Replacement: This project will help find a replacement for our current telephone system to match Mason's current environment of flex work, telework, and remote work due to the COVID-19 pandemic
Research Administration Management Portal (RAMP): This project involves implementing an integrated research web-based system, RAMP, to support Mason's growing research enterprise. RAMP will reduce duplication of efforts, better support faculty, and provide improved data collection, reporting, and driven decision making. To learn more, visit the RAMP website
Academic Planning System: This project will help the Registrar implement a new academic planning and degree tracking system to help

consolidate

existing student services that are spread across multiple applications

Ethos Integration Model: This project will establish a Mason Integration Model by extending the Ellucian Ethos Platform to create a common approach to data exchange and application integration in production
In addition, there are many upcoming business case developments that the PPMO plans to take on in the near future, such as the New Assessment and Accreditation Management System Implementation for the Office of Institutional Effectiveness and Planning (OIEP), the University Budget Planning and Forecasting Tool for Fiscal Services, and various HR needs around position planning and standardization.
If you want to learn more about these efforts or have a project request of your own, visit the Portfolio and Project Management Office and be sure to check back on the Projects Dashboard to find the latest details on projects most relevant to you.
Posted May 23, 2022