Note: Intune is only available on Mason-managed Windows devices.
Step 1
Click Start on your Windows device.
Step 2
Click Settings.

Step 3
Click Accounts.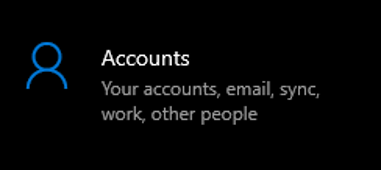 Step 4
Click Access work or school.

Step 5
Click Connected to MESA AD domain then click Info.
Step 6
Click Sync under Device sync status.
Step 7
If you receive the message saying the sync was unsuccessful, click Sync again.
Step 8
You will be prompted to sign in with your Mason NetID and Patriot Pass Password. Once signed in, your username will be synced to Intune.
Last modified: March 2, 2021