Note: Intune is only available on Mason-managed Windows devices.
Step 1
Click Start on your Windows device.
Step 2
Click on Settings.

Step 3
Click Accounts.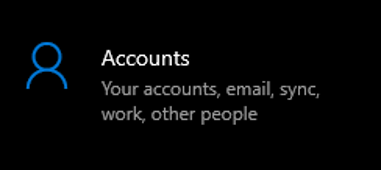 Step 4
Click Access work or school.

Step 5
Click Connected to MESA AD domain then click Info.
Note: If the Info button does not appear on your device, your device has not been successfully enrolled. If your device has been connected to the VPN, and you believe your device should be enrolled, please contact the ITS Support Center.
Last modified: March 2, 2021