What You Need to Get Started
Because you are new to the university, you will need to have a NetID assigned to you, and you will need to select a password. To successfully complete all steps of the activation detailed here, you must have the following information ready to use before you begin:
Your G Number (G#)

Students: this will be given to you during the admissions process or during New Student Orientation
Employees: that will be given to you by your hiring department or by Human Resources during the orientation process

Your Claim Code

Students: this is the six-digit code that was given to you by the administering department
Employees: this is the six-digit code that you be given during the HR orientation process or by your hiring department.

Access to a telephone, preferably a smartphone, for 2FA enrollment. If you have a smartphone, the Duo Mobile application downloaded from your phone's app store (Android or Apple).
These instructions are to be used for Mason students and new hire employees who have never activated their Patriot Pass account (Mason NetID and Patriot Pass Password). At the end of this process, you will have:
Claimed your Mason NetID: this is your username for nearly all Mason systems
Set your Patriot Pass Password: this is your password for nearly all Mason systems
Enrolled in Duo: Mason's Two Factor Authentication (2FA) system
Provided a backup, non-Mason email address for account recovery should you forget your password
Created account recovery questions and responses that can also be used if you forget your password
If you already know your NetID and set your password, you must go to 2fa.gmu.edu to complete your required 2FA enrollment.
Note: The Duo enrollment process is only available for those with non-international phone numbers. For those enrolling internationally (e.g., Mason Korea), you will need to enroll in 2FA directly through 2fa.gmu.edu once you complete the account provisioning steps below. Please see the 2FA Enrollment Guide for detailed instructions on enrolling non-U.S. phone numbers.
Instructions
Follow the prompts to successfully complete this enrollment process. The following is a guide and meant to provide a general overview of the steps. Certain steps may be abbreviated, or the screens displayed may be slightly different. This process will take approximately 15-20 minutes depending on prior preparation.
Note: If you are unable to complete this process fully, you must contact the ITS Support Center for assistance. They will let you know which steps are to be completed and where to complete them.
Step 1
Go to password.gmu.edu.
Step 2
On the home page screen, select Activate Account.
Step 3
Enter your G Number and Claim Code then select Continue.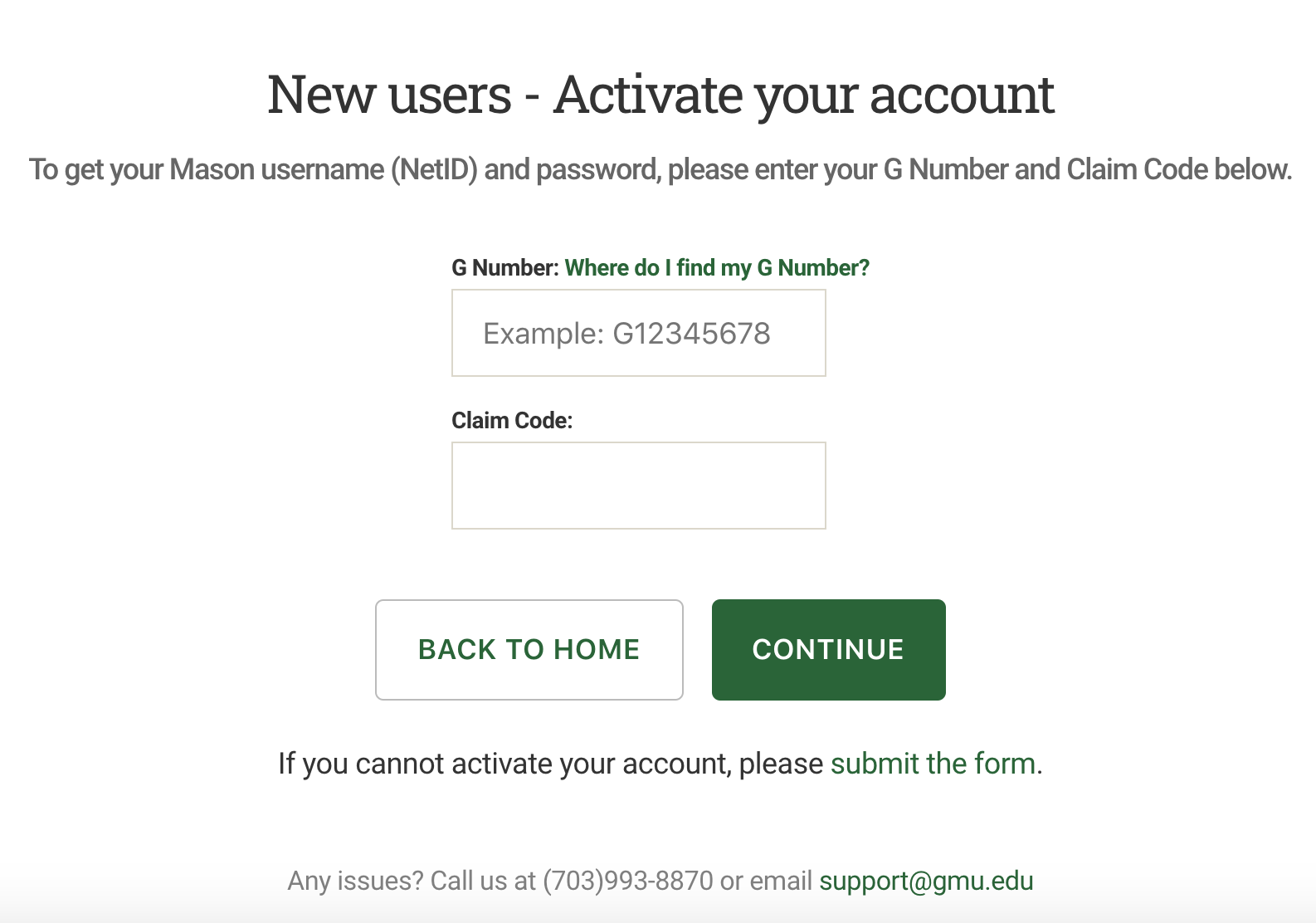 Step 4
Select Start Account Setup.
Step 5
Enter your contact information then select Save and Continue.
Note: If you check the International number box, you will see the following message:
Step 6
Enter your security questions and answers, then select Save and Continue.
Note: Security questions must have at least 10 characters.
Step 7
Create your Patriot Pass password, then select Save and Continue.
NOTE: If you checked the International number on the contact information page, you will not need to enroll in 2FA. Skip to Step 13.
If you did not check the International number on the contact information page, after you create a password, you will need to enroll in 2FA.
Step 8
Read the Consent, check the I Accept checkbox, then select Continue.
Step 9
Follow the prompts on the Duo 2FA Authentication Verification page.
Step 10
Select the phone type then select Enroll Device.
Step 11
Follow the instructions on the Complete Initial Phone Enrollment page then select Continue.
Step 12
You should see the following screen. Select Continue.
Step 13
Your enrollment is now complete.
The Verification screen will indicate that your password has been updated. You are now ready to use your Patriot Pass to access these systems at Mason.
Students
After activating your Patriot Pass account, you will need to activate MasonLive.
Note: You cannot activate MasonLive with a Limited Access NetID (i.e., starts with 9).
Last modified: March 2, 2021