The Cisco AnyConnect VPN allows you to connect to Mason networks, making access to restricted services possible as if you were on campus. To connect to the VPN from your Windows computer, you need to install the Cisco AnyConnect VPN client.
Cisco AnyConnect VPN is available for download via the Related Downloads box to the right on this page, or you can install it from the Windows Software Center.
If Your Computer is on MESA
Step 1
Open Software Center by clicking the Start Button > All Programs > Microsoft System Center 2012 > Configuration Manager > Software Center.
Step 2
Check Cisco AnyConnect VPN and click Install.

If Your Computer is Not on MESA
Step 1
Download the Cisco AnyConnect VPN client in the Related Download box in the upper-right of this page.

Step 2
Click Run.
Step 3
When the Setup Wizard starts, click Next to continue.
Step 4
Accept the terms in the license agreement and click Next.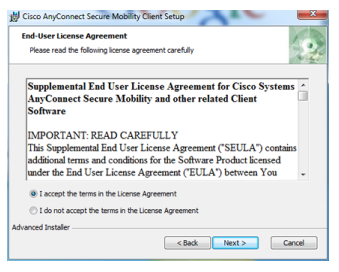 Step 5
Click Install to start the installation.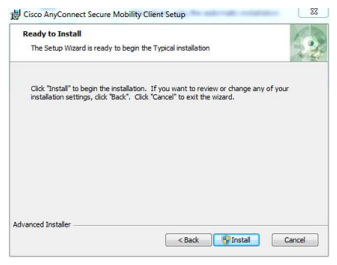 Step 6
Click Finish to complete the installation and exit the Setup Wizard.